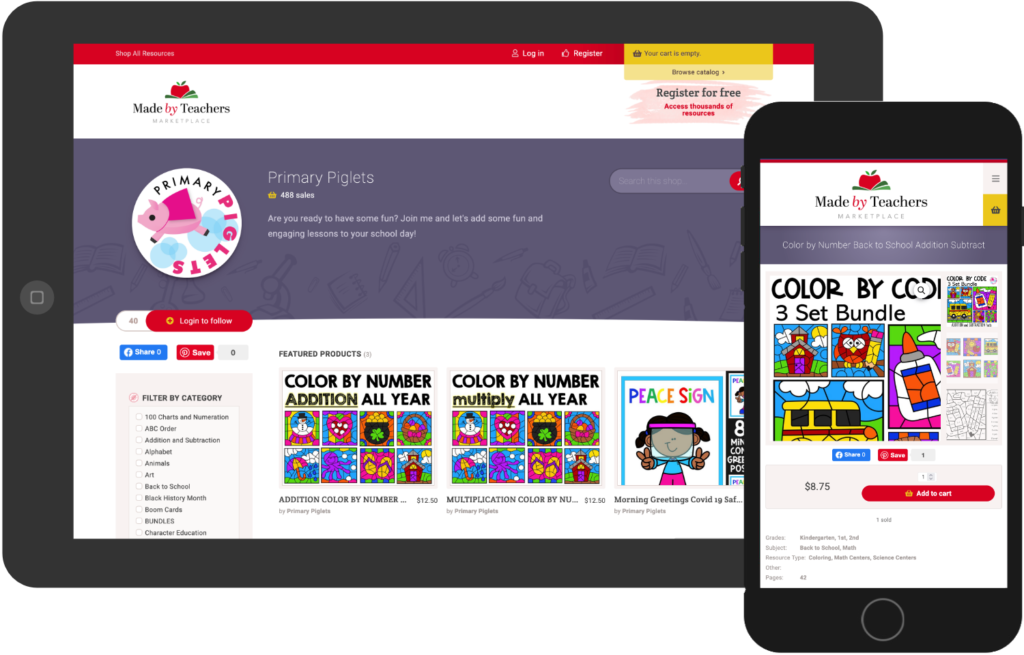 MadeByTeachers.com is a marketplace powered by WooCommerce & the Product Vendors plugin. I had the opportunity to take care of redesigning and developing a new shopping experience for this website.
With a monthly traffic of 200,000 visitors, MadeByTeachers is a leading American website for parents and students looking for educational materials. This marketplace required both a visual and functional revamp to facilitate the visitor's journey and improve the frontend administration for vendors.
Pierre did a fantastic job. He understood exactly what we were looking for and made helpful suggestions along the way. The job was done in the timeframe agreed upon and with good communication throughout the process.

Highly recommend.

Daniel Kelly, founder of Made By Teachers
---
A WooCommerce Product Vendors marketplace
The founder of the website, Daniel Kelly, wanted to rejuvenate their online store of printable worksheets for kids. Powered by WooCommerce and the Products Vendors plugin, this marketplace is open to anyone who wants to create an online store and sell their own products.
A new web design to improve the shopping experience
I developed a special WooCommerce-compatible WordPress theme to achieve this new custom layout, respecting the brand color palette and simplicity, and highlighting the products via a modern and efficient responsive design. These designs closely followed the mockups provided by the client.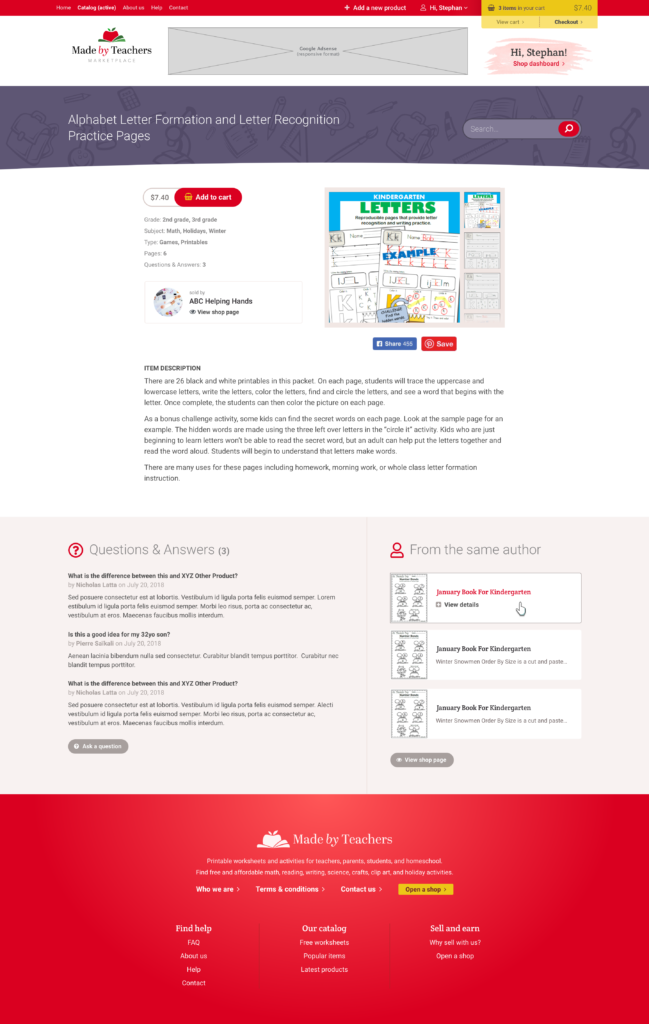 The WooCommerce shopping experience has also been fully adjusted with the new design. Both shopping cart and order pages are now fully integrated with the site visuals.
Frontend product management for vendors
A customized dashboard was created on the website's frontend, where sellers can access tabs and sub-tabs to manage their store and products and view vital data (customer reviews, sales reports, etc.).
The core part of this custom dashboard (showcased below) remains the WooCommerce product addition or edition form. A vendor can quickly add a new product to their store with just a few clicks.
All product properties are edited via this form using AJAX error validation. The upload of product images and files to be downloaded are also done through AJAX for a perfectly smooth and seamless management experience.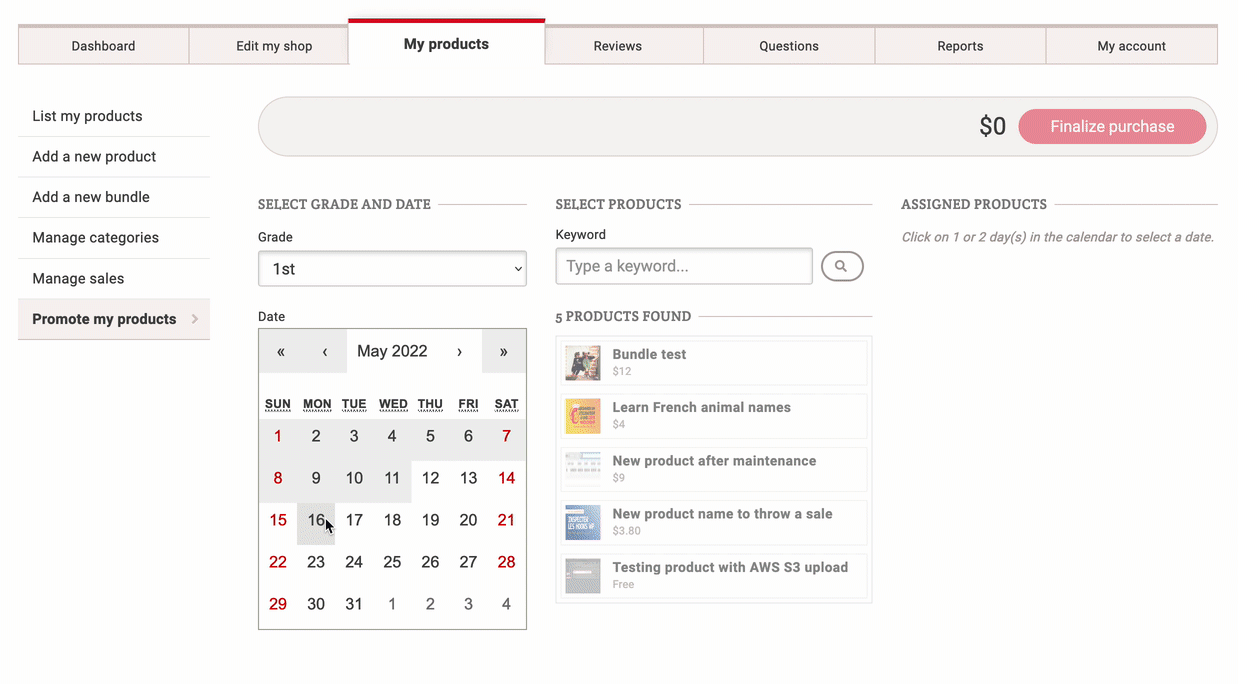 Comprehensive management features for vendors, seamlessly integrated with the frontend
In addition to this form, sellers have access to many other tools for complete management of their shop page and catalog of products, allowing:
customization of their store page (name, logo, store description)
products management to create or edit their data,
product categories creation/edition tool to organize their products in a custom way,
planning of automated sales periods,
scheduling tool for purchasing daily product promotional ads slots on the global category shop pages,
user flow to ask/answer questions about products before purchase,
access to post-purchase customer reviews list.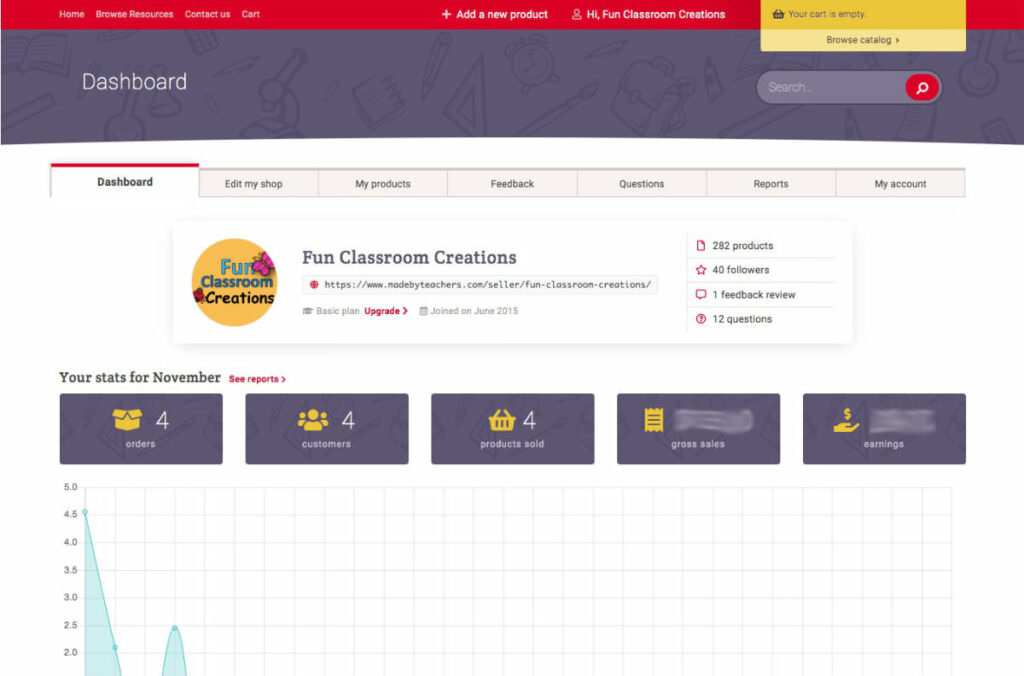 WooCommerce Subscriptions integration with Product Vendors
Vendor registration on the MadeByTeachers platform has also been deeply integrated with an optional paid subscription system offering some benefits to members. This integration has been custom-developed using WooCommerce Subscriptions and gives premium users:
a lower commission rate when making a sale,
less restrictive file upload limits,
the ability to showcase products on their store page.
A custom WooCommerce store development
In addition to this dashboard for vendors, custom WooCommerce and React JS features have been created to include new functionalities:
management of single or multi-license product prices and updating of the buyer's cart according to the chosen quantities,
possibility for sellers to create and edit bundled products to sell several products through a single purchase,
add new meta fields on products (number of pages, multi-license prices),
possibility to ask questions to sellers on a product page,
automated Cron task to get customer reviews from recent buyers via email,
possibility to follow a store and receive a weekly email with a list of new products from the followed sellers,
direct download of free products, bypassing the WooCommerce purchase tunnel,
administrator-activated system of store-wide sales for the whole website, with an automatic increase on vendor commission rates to counterbalance the discount.